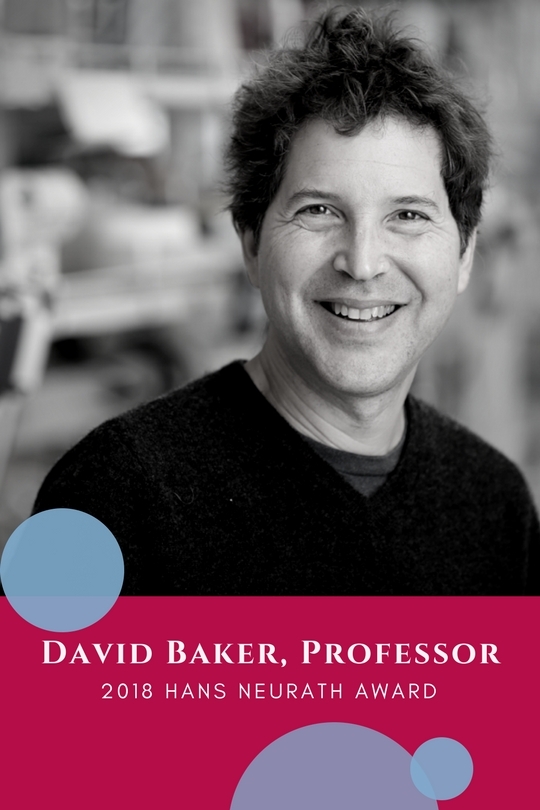 The Protein Society has selected David Baker as this year's Hans Neurath Award winner. The award recognizes "a recent contribution of unusual merit to basic protein science."
The Society writes that David's breakthroughs "reduce to practice what was for many decades the holy grail of protein science: fundamental understanding of the determinants of protein structure and stability that leads to consistent predictive capabilities, including the ability to design protein shapes and functions as desired." David received the Young Investigator Award from the Society in 2000.
Previous Hans Neurath Award Winners:
2017 – Kazuhiro Nagata
2016 – H. Eric Xu
2015 – Marina Rodnina
2014 – James Hurley
2013 – Jennifer Doudna and Chuck Sanders
2012 – Charles Brooks
2010 – Wendell Lim
2009 – William Eaton
2008 – Robert Stroud
2007 – Robert Sauer
2006 – Christopher Dobson
2005 – Roderick MacKinnon
2004 – Carlos Bustamante
2003 – James Wells
2002 – Ad Bax
2001 – Arthur Horwich
2000 – Janet Thornton
1999 – Peter Kim
1998 – Ken Dill
Hans Neurath played an integral role in the early life of the Protein Society, both as a founding member as founding editor of Protein Science. His contributions to the early success of the Society were surpassed only by his larger contributions to the field of biochemistry and our early understanding of proteins.